CADEX WHITE GLOVE SERVICE
CADEX customers choose cycling products with the highest level of performance possible. This goes beyond the products themselves and includes unmatched technical service and support, including two- year premier coverage and five-year incident replacement program.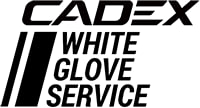 TWO YEAR WARRANTY
CADEX products feature a two-year warranty against defects in material and workmanship for the original owner. Warranty duration and details may vary by country. CADEX also offers a two-year Composite Confidence support plan for products purchased in the United States. Any CADEX composite product damaged while in use will be repaired or replaced by CADEX free of charge. This includes damage done while racing. Learn more
FIVE-YEAR INCIDENT REPLACEMENT PROGRAM
Register your new CADEX product on the CADEX website within 8 weeks of the purchase date, and you'll be enrolled in our five-year, 50% discount incident replacement program. If the product gets damaged, you can return it and purchase a new replacement at a 50% discount (based on the price of the original product). If the same model is no longer available, a CADEX product from the most recent lineup can be purchased with a 50% discount. (In this case there may be additional costs to make the replacement compatible for which CADEX is not responsible). This program is limited to the original owner of the product, and the customer is responsible for shipping costs.