WHY CADEX HOOKLESS?
---
IMPROVED TIRE PERFORMANCE
Compared with hook-type rims, the CADEX hookless design has a wider inner rim width, which allows a smaller, lighter tire to have the same volume as a larger, heavier tire, resulting in a lighter wheel/tire combination.
CONFIDENT HANDLING
Hookless rims also help create a more round tire shape that provides superior grip and handling as well as added sidewall support when cornering.
DURABILITY
CADEX eliminates rim hooks through an innovative manufacturing process that allows for a more consistent application of the rim's carbon fiber material. This process, combined with an increased rim bead width, enhances durability and impact resistance.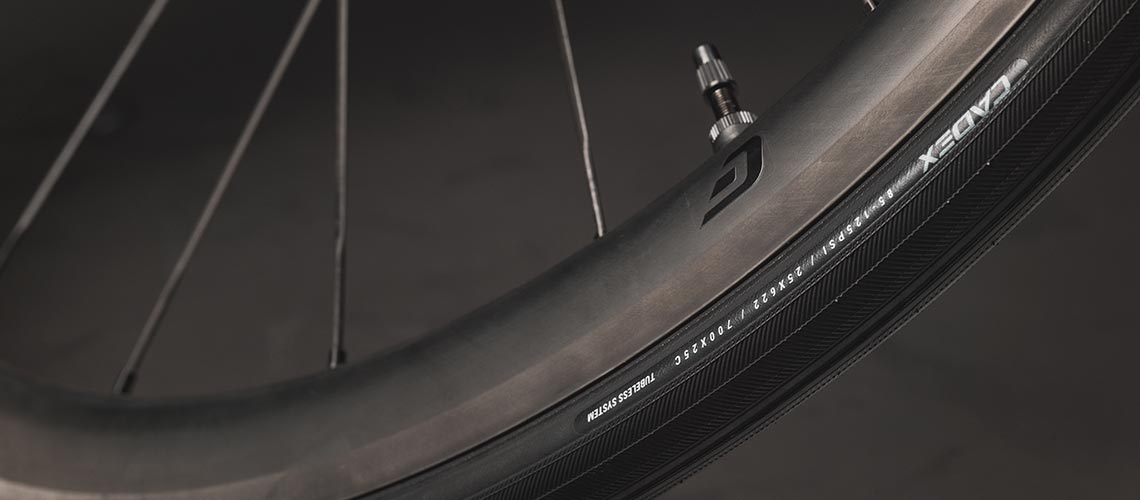 SPECIFIC CHALLENGES FOR ROAD HOOKLESS
TIRE RETENTION AND COMPATIBILITY
Like any modern tubeless system, the tolerances of the tire bead diameter and hookless rim bead seat diameters must be carefully calibrated in order to create an airtight seal that will allow the tire to stay on the rim and the rider to slow to a safe stop in case of puncture. If the tire bead diameter is too large, it will not match the rim bead seat diameter. Likewise, if the bead material isn't strong or stiff enough under high pressure loads, the tire bead will stretch over time and it will lose its original diameter.
If rim manufacturers do not work directly with tire manufacturers when designing new hookless rims, tolerances and bead materials can vary. This can make it difficult to pair tires and hookless rims from different manufacturers.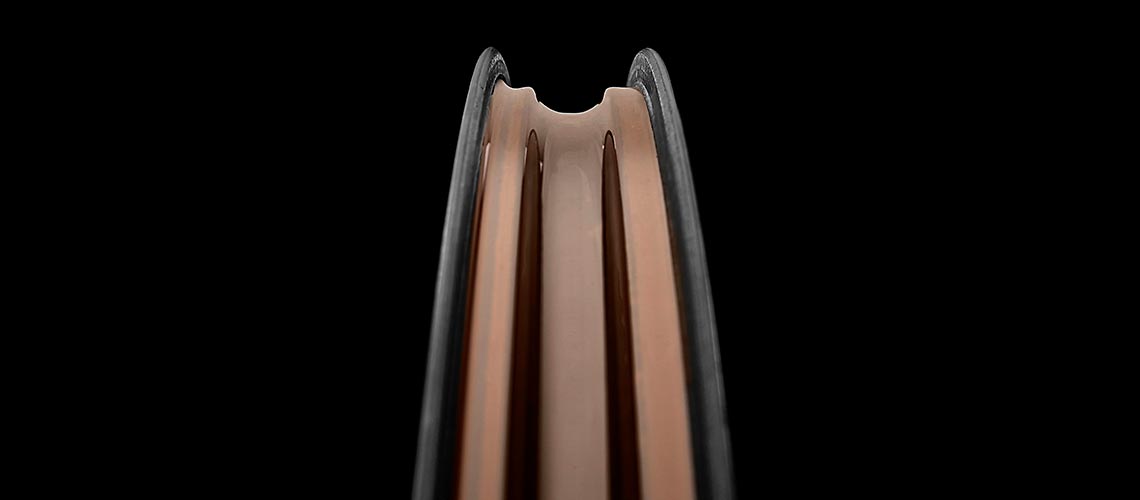 WHAT SETS CADEX APART?
---
Rather than using a Kevlar-only bead, which can stretch over time and compromise the tire bead diameter, CADEX tires feature a carbon and Kevlar composite bead that's strong enough to avoid stretching under heavy loads. This, combined with our accurately defined tire and rim bead seat diameters, tested at pressures up to 150psi, guarantee dependable air and tire retention.
WHAT PRESSURE AND TIRES CAN I USE?
---
TIRE PRESSURE
No matter the type of rims or tires you are using, never exceed the maximum pressure stated on the rim or tire. Always follow the lower of the two maximum recommended pressures.
TIRE COMPATIBILITY
CADEX tubeless tires are always the best match for CADEX Tubeless WheelSystems. However, should you choose to use a non-CADEX tire, we have created a CADEX approved list of tires that we have tested to be 100% compatible with CADEX rims. Below is the current list of tested and approved tires:
CADEX APPROVED TIRE LIST
| Brand/Model | | | Approved Sizes | |
| --- | --- | --- | --- | --- |
| | 700x23C | 700x25C | 700x28C | 700x32C |
| CADEX RACE TUBELESS | • | • | • | |
| GIANT GAVIA COURSE 0 TUBELESS | | • | • | |
| GIANT GAVIA COURSE 1 TUBELESS | | • | • | |
| GIANT GAVIA FONDO 0 TUBELESS | | | • | • |
| GIANT GAVIA FONDO 1 TUBELESS | | | • | • |
| GIANT GAVIA RACE 0 TUBELESS | | • | • | |
| GIANT GAVIA RACE 1 TUBELESS | | • | • | |
| GIANT GAVIA AC 0 TUBELESS | | • | • | |
| GIANT GAVIA AC 1 TUBELESS | | • | • | |
For tires not on the CADEX Approved Tire List, we are working with manufacturers so updates can be made to approve them. However, be aware that if you choose to use a tire that is not on the CADEX Approved Tire List, you do so at your own risk, and we cannot guarantee that the tire will function correctly and safely with the CADEX Tubeless WheelSystem featuring a hookless bead.
If necessary, you may use an inner tube on a CADEX rim, so long as the tire you are using is on the CADEX Approved Tire List. However, please note that CADEX rims are designed to perform best when set up as tubeless and used without an inner tube.